Our Awards
North Kansas City Hospital's Awards and Accreditations
North Kansas City Hospital has received a number of accolades and accreditations for excellence in healthcare, our comprehensive services and our state-of-the-art facility. As a leader in high technology and exceptional care, we're proud to be one of the first hospitals in the country to implement a cardiac hospice program, PACS (a fully integrated filmless radiology system) and a pharmacy "robot," which stores, retrieves and dispenses medication.
North Kansas City Hospital is a Magnet® designated hospital. The recognition, granted by the American Nurses Credentialing Center, is the highest achievement a hospital can receive for nursing excellence. NKCH is one of only three Magnet hospitals in Kansas City, and one of seven in Missouri.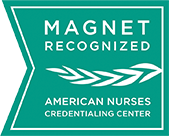 The hospital received the American College of Cardiology Foundation's 2019 Chest Pain - MI Registry Platinum Performance Achievement Award for following American College of Cardiology and American Heart Association treatment guidelines for eight consecutive quarters and by achieving a 90% performance standard for specific measures, including drug safety and overall quality of care.
We also have the only
Heart Failure
program in a four-state area to achieve accreditation at this level.
North Kansas City Hospital ranks among the best in the nation, according to The Joint Commission. The Joint Commission officials remarked, "North Kansas City Hospital is an excellent hospital. A warm and friendly place full of employees deeply dedicated to quality care." We've also been recognized by The Joint Commission as a Top Performer on Key Quality Measures for attaining and sustaining excellence in accountability measure performance for heart attack, heart failure, pneumonia, surgical care and perinatal care.
North Kansas City Hospital has several accredited programs. Our cancer program is nationally recognized and accredited by the Commission on Cancer of the American College of Surgeons (COC). Patients who receive treatment through this program are ensured access to quality care close to home. They also receive information about cancer clinical trials, education and support, lifelong patient follow-up and ongoing improvement of care.
The Hospital's Cardiac Rehabilitation program is nationally accredited and certified by the American Association of Cardiovascular and Pulmonary Rehabilitation.
Our
Chest Pain Center
consistently exceeds the national and state averages for quick response in getting heart attack patients to treatment.
North Kansas City Hospital's
Wound Healing Center
is the only facility in the Northland and one of only six centers in Missouri with accreditation by the Undersea & Hyperbaric Medical Society, the recognized authority in the field of hyperbaric medicine.
Be part of remarkable care. Find an exceptional career opportunity at North Kansas City Hospital.
OUR RECRUITING TEAM
North Kansas City Hospital's recruiters play a vital role in finding and hiring compassionate talented people who help make our hospital one of the best hospitals in Kansas City.
Meet Our Recruiters